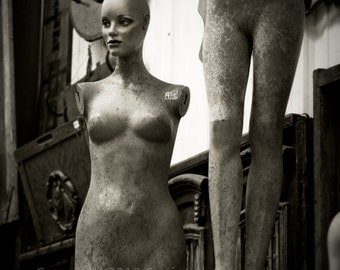 A length of antique satin, snipped from the bolt, is fastened in slithering folds around fiberglass-pins gliding easily into visions of my genius.
Fake flesh, pricked.
"OUCH!"
This mannequin is much too realistic.
Ah, apparel design classes. Those poor mannequins suffered many brutish attempts on my part to make lengths of fabric do my bidding. I hope mannequins have forgiving natures.
The weekend challenge This weekend we want you to give us 33 words (exactly) that include among them at least one example of onomatopoeia. When looking for a good page to link to in order to help describe the device, we stumbled upon our very own Apoplectic Apostrophes' post on literary devices. Check it out if you need help remembering how onomatopoeia work.
Picture source.